Frecuencia y Razones de Consumo de Bebidas Energéticas en Jóvenes Universitarios
Jorge Iván Bazan-Olaya ,

Jesús Manuel Campos-Pastelin ,

Nelly Victoria Gutiérrez-Moguel ,

Lucio González-Montiel
Resumen
Introducción: Las bebidas energéticas son productos que están compuestos por diversas sustancias que podrían causar efectos nocivos para la salud. El consumo de estas bebidas ha aumentado en los últimos años en jóvenes que buscan efectos que ayuden en su mejoramiento y rendimiento, ya sea académico o deportivo. Objetivo: Conocer la frecuencia y las principales razones del consumo de bebidas energéticas, así como determinar los efectos asociados al consumo de bebidas energéticas en estudiantes de la Universidad de la Cañada. Metodología: Se realizó un estudio de enfoque cualitativo, tipo descriptivo, observacional y transversal, aplicando encuestas, con un nivel de confianza del 95% y una precisión del 5%. Resultados: De un total de 334 alumnos inscritos en las diferentes carreras de la Universidad, se encuestaron a 179 alumnos mediante un muestreo aleatorio simple. El 68.5% de los encuestados mencionan que por lo menos alguna vez en su vida han probado dichas bebidas, mientras que el 31.28% la consumió durante la investigación. El 76.78% consume en promedio de 1 a 3 latas al mes. Siendo las principales razones de consumo: mantenerse despierto, aumentar el rendimiento deportivo y potenciar el efecto del alcohol. Las marcas de mayor preferencia fueron Vive 100 seguida de Red Bull. Para ambas marcas, las palpitaciones y el dolor de cabeza son los principales efectos adversos. Conclusiones: A pesar de que el consumo de estas bebidas es bajo, es necesario implementar un programa de difusión, para concientizar a los alumnos, sobre los efectos adversos asociados al consumo de bebidas energéticas.
Palabras clave:
bebidas energéticas, taurina, acetilcarnitina, cafeína, adultos jóvenes
Texto completo:
Referencias
Heckman MA, Sherry K, Gonzales de Mejia E. Energy drinks: An assessment of their market size, consumer demographics, ingredient profile, functionality, and regulations in the United States. Comprehensive Reviews in Food Science and Food Safety, 2010; (9): 303-317.

Plamondon L. Energy drinks: Threatening or commonplace?. An update. Quebec, Canadá: Institut National de Santé Publique du Québec; 2013. Disponible en: https://www.inspq.qc.ca/pdf/publications/1669_BoissonsEnergisantes.pdf

Schneider BM, Benjamin H. Sports drinks and energy drinks for children and adolescents: Are they appropriate? American Academy of Pediatrics, 2011; (6): 1182-1189.

Seifert SM, Schaechter JL, Hershorin ER, Lipshultz SE. Health effects of energy drinks on children, adolescents, and young adult. Pediatrics, 2011; 127(3): 511-528.

Dikici S, Saritas A, Besir FH, Tasci AH, Kandis H. Do energy drinks cause epileptic seizure and ischemic stroke? Am J Emerg Med. 2013; 31: 274.e2-274.e4.

Ramón SDM, Cámara FJM, Cabral LFJ, Juárez RIE, Diaz ZJC. Consumo de bebidas energéticas en una población de estudiantes universitarios del estado de Tabasco, México. Salud en Tabasco, 2013; 19(1): 10-14.

Viggars M. Energy drinks. Reino Unido. Health Equalities Group; 2017. Disponible en: http://docplayer.net/51624806-Energy-drinks.html

Clauson KA, Shields KM, McQueen CE, Persad N. Safety issues associated with commercially available energy drinks. J Am Pharm Assoc. 2008; 48(3): e55–63.

Yunusa I, Muhammad AI. Energy-drinks: composition and health benefits. Bajopas, 2011; 4(2): 186 – 191.

Salinero JJ, Lara B, Vicen JA, Gonzalez MC, Areces F, Gallo-Salazar C, Ruiz-Vicente D, Del Coso J. The use of energy drinks in sport: perceived ergogenicity and side effects in male and female athletes. Br J Nutr. 2014; 112: 1494–1502.

Paulucio D, Terra A, Santos CG, Cagy M, Velasques B, Ribeiro P, Da Costa B. Gongora M, Alvarenga R, Alonso L, Pompeu FAMS. Acute effect of Ethanol and Taurineon frontal cortex absolute beta power before and after exercise. PLOS ONE. 2018; 13(3): 1-16.

Joo Suh H, Shin B, Hee Han S, Jea Woo M, Bae Hong K. Behavioral changes and survival in Drosophila melanogaster: Effects of ascorbic acid, taurine, and caffeine. Biol. Pharm. Bull. 2017; 40(11): 1873-1882.

Abdulrahman AA. Energy drink consumption: Beneficial and adverse health effects. Int J Med Sci Public Health. 2015; 9(4): 468-474.

McCormack WP, Hoffman JR. Caffeine, energy drinks, and strength-power performance. Strength and Cond J. 2012; 34(4): 11-16.

Lippi G, Cervellin G, Sanchis Gomar F. Energy drinks and myocardial ischemia: A review of case reports. Cardiovasc Toxicol. 2016; 16(3): 207-212.

Longo N, Frigeni M, Pasquali M. Carnitine transport and fatty acid oxidation. Biochim Biophys Acta,.2016; 1863(10): 2422 –2435.

Gantiva C, Mateus J, Perilla C. Efectos del consumo de bebidas energizantes en el aprendizaje encadenado en ratas. Psychologia. Avances de la disciplina. 2008; 2 (2): 93-109.

Surai P. Antioxidant action of carnitine: molecular mechanisms and practical applications. Vet Sci 2.1. 2015: 66-84.

Santacruz M, Rodríguez CA, Jiménez ML. Efectos de la cafeína en algunos aspectos de la salud y de la cognición. Rev Col Reh. 2006; 6(6): 73-90.

Barreda AR, Molina L, Haro VR, Alford C, Verster JC. Actualización sobre los efectos de la cafeína y su perfil de seguridad en alimentos y bebidas. Rev Med Hosp Gen Méx. 2012; 75(1):60-67.

Cote MM, Rangel GCX, Sánchez TMY, Medina LA. Bebidas energizantes: ¿hidratantes o estimulantes?. Rev. Fac. Med. 2011; 59(3): 255-266.

Alrasheedi AA. Prevalence and reasons for consumption of energy drinks among adolescents and young adults in Jeddah, Saudi Arabia. Glob. J. Health Sci. 2017; 9(2); 23-32.

Reid SD, Ramsarran J, Brathwaite R, Lyman S, Baker A, Cornish DC, Ganga S. Mohammed Z, Sookdeo AT, Thapelo CK. Energy drink usage among university students in a Caribbean country: patterns of use and Adverse effects. Journal of Epidemiology and Global Health. 2015; 5(2): 103-116.

Ali F, Rehman H, Babazayan Z, Stapleton D, Joshi DD. Energy drinks and their adverse health effects: A systematic review of the current evidence. Postgrad Med. 2015; 127(3): 308-22.

Viell B, Gräbner L, Früchel G, Boczek P. New caffeinated beverages: A pilot survey of familiarity and consumption by adolescents in North-Rhine Westphalia and Berlin and considerations of consumer protection. Ernährungswiss. 1996; 35(4): 378-86.

Ravelo AA, Rubio AC, Soler CA, Casas GC, Casas GE, Gutiérrez FAJ, Revert GC, Hardisson TA. Consumo de bebidas energizantes en universitarios. Rev. Esp. Nutr. comunitaria. 2013; 19(4): 201-206.

Gallimberti L, Buja A, Chindamo S, Vinelli A, Lazzarin G, Terraneo A, Scafato E, Baldo V. Energy drink consumption in children and early adolescents. Eur J Pediatr. 2013; 172(10): 1335–1340.

Oddy W, O´Sullivan T. Energy drinks for children and adolescents erring on the side of caution may reduce long term health risks. Br Med J. 2009; 339(5268): 59-64.

Toribio Y, Vera O, Navarro A, Aguilar P. Conocimiento sobre las bebidas energizantes y frecuencia de consumo en una población de estudiantes universitarios. Rev. Cienc. Salud. 2017; 4(13): 14-21.

Hendricks L, Jabrah A, Simpson C. The effects of energy drinks on college students. Am J Ther Grug Delivery. 2017; 4(1:5): 1-2.

Manchester J, Eshel I, Marion DW. The benefits and risks of energy drinks in young adults and military service members. Mil Med. 2017; 182(7): e1726-e1733.

El-Sabban F. Perspectives on energy drinks. J Clin Nutr Diet. 2016; 2(2:9): 1-3.

Mangi MA, Rehman H, Rafique M, Illovsky M. Energy drinks and the risk of cardiovascular disease: A review of current literature, Cureus. 2017; 9(6): 1-9.

Manrique CI, Arroyave-Hoyos CL, Glavis-Pareja D. Bebidas cafeínadas energizantes: efectos neurológicos y cardiovasculares, IATREIA. 2018; 31(1): 65-75.

Wassef B, Kohansieh M, Makaryus AN. Effects of energy drinks on the cardiovascular system. World J Cardiol. 2017; 9(11): 796-806.

Bagwath PLA. Energy drinks and the neurophysiological impact of caffeine. Front Neurosci. 2011; 5(116) 1-8.

Greene E, Oman K, Lefler M. Energy drink–induced acute kidney injury. Ann Pharmacother. 2014; 48(10): 1366-1370.

Mansy W, Alogaiel DM, Hanafi M, Zakaria E. Effects of chronic consumption of energy drinks on liver and kidney of experimental rats. Trop J Pharm Res. 2017; 16(12): 2849-2856.

Saravi FD. Cafeína y salud ósea. Actualizaciones en Osteología. 2014; 10(2): 119-121.

Liu SH, Chen C, Yang RS, Yen PY, Yang YT, Tsai C. Caffeine enhances osteoclast differentiation from bone marrow hematopoietic cells and reduces bone mineral density in growing rats. J Orthop Res,.2011; 29(6): 954-960.

Basmajian OM. Índice de consumo de bebidas energizantes y riesgos asociados. [tesis de licenciatura]. Córdoba: Universidad Católica de Córdoba; 2012. Disponible en: http://pa.bibdigital.uccor.edu.ar/647/1/TESIS%20FARMACIA%20Basmadjian%20Osvaldo.pdf.

Nowak D, Góslinski M, Nowatkowska K. The effect of acute consumption of energy drinks on blood pressure, heart rate and blood glucose in the group of young adults. Int. J. Environ. Res. Public Health. 2018; 15(544): 1-11.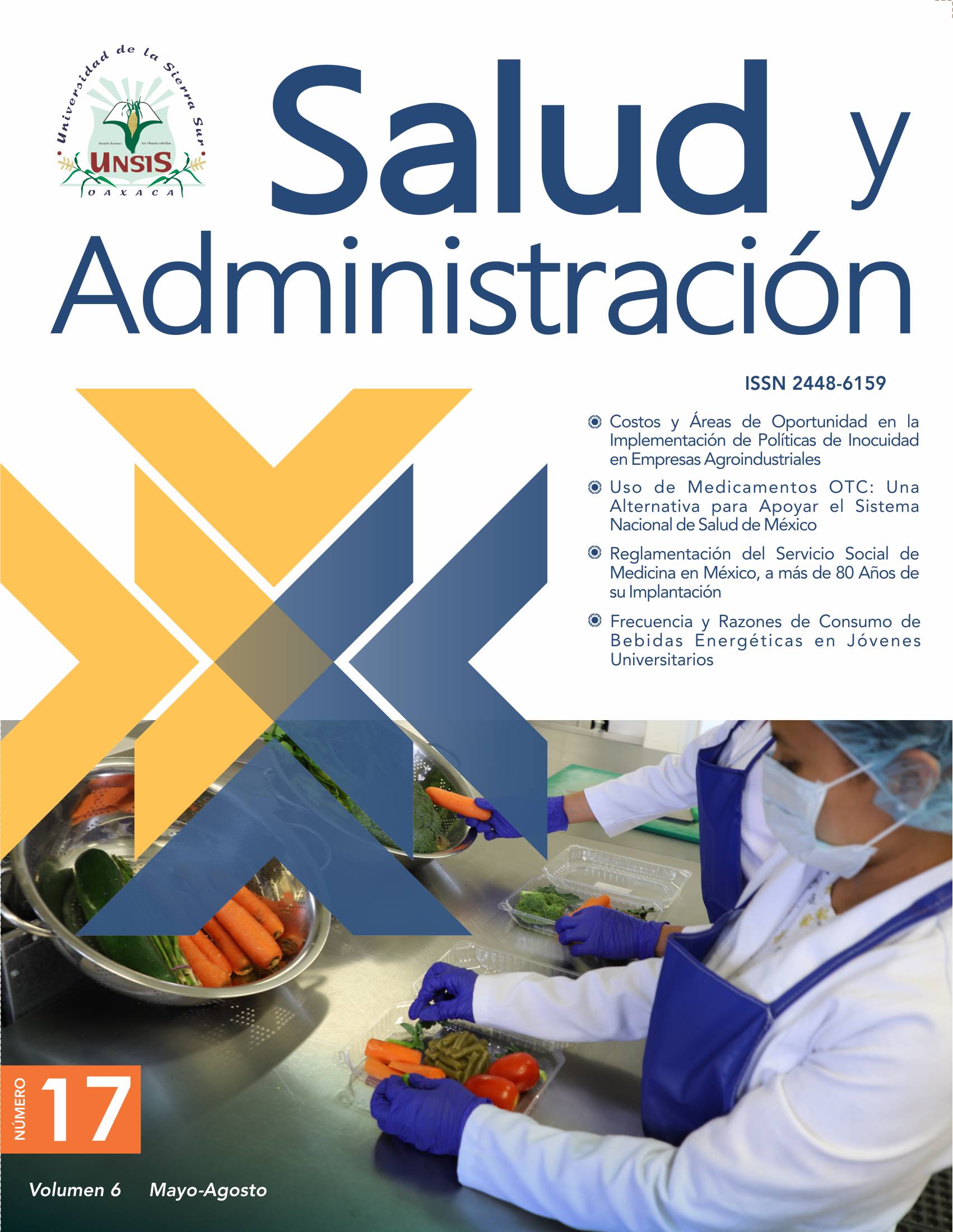 Sección
Artículos originales