Costo de la Atención Hospitalaria y Años de Vida Perdidos por la Muerte Materna
Acela Marlen Santamaría-Benhumea ,

Jorge Antonio Gutiérrez-Ramírez ,

Javier Edmundo Herrera-Villalobos ,

Everardo Ibarra-Estrada ,

Miguel Ángel López-Esquivel ,

Hugo Mendieta-Zerón
Resumen
Antecedentes: La mortalidad materna es aceptada como indicador socioeconómico, clave para la salud . Los indicadores de salud reflejan no sólo el estado general del sistema de salud, sino también diversos aspectos de la estructura de un país. Objetivo: Determinar el costo de la atención hospitalaria y Años de Vida Perdidos (AVP) por la muerte materna. Material y Métodos: Estudio retrospectivo de análisis de costos realizado de 2011 a 2014, en el Hospital Materno Perinatal "Mónica Pretelini Sáenz" en Toluca, Estado de México. Se incluyeron 91 expedientes clínicos, clasificados en 2 grupos, el primero con diagnóstico de muerte materna (MM) (n = 49) y el segundo con sobrevida materna (SM) (n = 42), con control prenatal que culminaron su embarazo sin complicaciones. Se costeó el control prenatal, la vía de resolución y la hospitalización en pesos mexicanos al momento del estudio. Resultados: De las variables estudiadas, la media de edad fue de 27±6 años en el grupo MM y 28±5 en el grupo SM. Los AVP fueron de 1,535.51, la media fue de 31.33 con MM. El grupo MM obtuvo 62% menos control prenatal que el grupo de SM ($1,591.23* por MM vs. $4,190.48 por SM, p<0.0001); la vía de resolución se incrementó 12% para este grupo ($8,114.92 MM vs. $7,222.00 SM, p<0.0001); el costo de hospitalización se incrementó 1584%, ($34,313.72 MM vs. $2,037.14 SM, p<0.0006), mientras que el costo total se incrementó 227% ($44,019.86 MM vs. $13,449.62 SM, p<0.001). Conclusión: Los costos totales de la mortalidad materna se incrementaron por las complicaciones durante el parto y puerperio que requirieron atención especializada, medicamentos e insumos de alto costo.
*Las cantidades han sido estimadas en pesos mexicanos al momento del estudio.
Palabras clave:
atención hospitalaria, años de vida perdidos, costo, Estado de México, muerte materna
Texto completo:
Referencias
Sachs JD, McArthur JW. The Millennium Project: a plan for meeting the Millennium Development. Lancet 2005;365:347–53.
Assembly UN. United Nations Millennium Declaration: Resolution adopted by the General Assembly. 55/2. 18 September 2000. New York: United Nations; 2000.
Kassebaum NJ, Bertozzi-Villa A, Coggeshall MS, and cols. Global, regional, and national levels and causes of maternal mortality during 1990-2013: a systematic analysis for the Global Burden of Disease Study 2013. Lancet. 2014;384(9947):980-1004.
Ronsmans C, Graham WJ, on behalf of the Lancet Maternal Survival Series steering group. Maternal mortality: who, when, where, and why. Lancet. 2006;368(9542):1189–200.
United Nations. The Millennium Development Goals Report. New York: UN Department of Economic and Social Affairs; 2013.
Kruk ME, Galea S, Prescott M, Freedman LP. Health care financing and utilization of maternal health services in developing countries. Health Policy Plan. 2007;22(5):303-10.
Hogan MC, Foreman KJ, Naghavi M, Ahn SY, Wang M, Makela SM, López AD, Lozano R, Murray CJ. Maternal mortality for 181 countries, 1980-2008: a systematic analysis of progress towards Millennium Development Goal 5. Lancet. 2010;375(9726):1609-23.
Piane GM. Evidence-based practices to reduce maternal mortality: a systematic review. J Public Health (Oxf). 2009;31(1):26-31.
Wilmoth JR, Mizoguchi N, Oestergaard MZ, Say L, Mathers CD. A new method for deriving global estimates of maternal mortality. Stat Polit Policy. 2012;3(2).
Sajedinejad S, Majdzadeh R, Vedadhir A, Tabatabaei MG, Mohammad K. Maternal mortality: a cross-sectional study in global health. Global Health. 2015;11(1):4
Cubbin C. Survey methodology of the geographic research on wellbeing (GROW) study. BMC Res Notes. 2015;8:402.
Bello Lujan LM, Saavedra Santana P, Gutiérrez García LE, García Hernández JA, Serra Majem L. Sociodemographic and health characteristics associated with low birth weight in the canary islands. Nutr Hosp. 2015;32(4):1541-7.
Pereira J, Cañon J, Álvarez E. Génova R. La medida de la magnitud de los problemas de salud en el ámbito internacional: los estudios de carga de enfermedad. Revista de Administración Sanitaria. 2001;5(19):441-466.
Friedrich Von Wieser. Theorie der gesellschaftlichen Wirtschaft, 1914.
NORMA OFICIAL MEXICANA, NOM-007-SSA2-1993, Atención a la mujer durante el embarazo, parto y puerperio a recién nacidos. Criterios y procedimientos para la prestación del servicio. Disponible en: http://www.salud.gob.mx/unidades/cdi/nom/007ssa23.html [Consultada: 20 abril 2015].
Pabon H. Fundamentos de costos, Alfaomega Gpo Edr, México. 2012.
DECLARACION DE HELSINKI DE LA ASOCIACION MEDICA MUNDIAL, Principios éticos para las investigaciones médicas en seres humanos, Disponible en: http://www.wma.net/es/30publications/10policies/b3/17c_es.pdf [Consultada: 22 abril 2015].
Ley General de Salud. Disponible en: http://www.salud.gob.mx/unidades/cdi/legis/lgs/LEY_GENERAL_DE_SALUD.pdf [Consultada: 22 abril 2015].
REGLAMENTO de la Ley General de Salud en Materia de Investigación para la Salud Disponible en: http://www.salud.gob.mx/unidades/cdi/nom/compi/rlgsmis.html [Consultada: 22 abril 2015].
Coale A, Guo G. Revised Regional Model Life Tables at Very Low Levels of Moratality. Popul Index.1989;55(4):613-643.
Godefay H, Byass P, Graham WJ, Kinsman J, Mulugeta A. Risk Factors for Maternal Mortality in Rural Tigray, Northern Ethiopia: A Case-Control Study. PLoS One. 2015 Dec 1;10 (12):e0144975.
Musgrove P, Zeramdini R, Carrin G. Basic patterns in national health expenditure. Bull World Health Organ. 2002;80(2):134-42.
Skordis-Worrall J, Pace N, Bapat U, Das S, More NS, Joshi W, Pulkki-Brannstrom AM, Osrin D. Maternal and neonatal health expenditure in mumbai slums (India): A cross sectional study BMC Public Health. 2011;11: 150.
Mbuagbaw L, Medley N, Darzi AJ, Richardson M, Habiba Garga K, Ongolo-Zogo P. Health system and community level interventions for improving antenatal care coverage and health outcomes. Cochrane Database Syst Rev. 2015 December 1;12: CD010994.
Rosenthal MB, Li Z, Robertson AD, Milstein A. Impact of Financial Incentives for Prenatal Care on Birth Outcomes and Spending Health Serv Res. 2009;44(5 Pt 1): 1465–1479.
Hill K, Thomas K, AbouZahr C, Walker N, Say L, Inoue M, Suzuki E; Maternal Mortality Working Group. Estimates of maternal mortality worldwide between 1990 and 2005: an assessment of available data. Lancet. 2007;370(9595):1311-9.
Benova L, Cumming O, Campbell OM. Systematic review and meta-analysis: association between water and sanitation environment and maternal mortality. Trop Med Int Health. 2014;19(4):368-87.
Hogberg U. The decline in maternal mortality in Sweden: the role of community midwifery. Am J Public Health. 2004;94(8):1312-20.
Bullough C, Meda N, Makowiecka K, et al. Current strategies for the reduction of maternal mortality. BJOG, 2005.112:1180–8.
Ronsmans C, Holtz S, Stanton C. Socioeconomic differentials in caesarean rates in developing countries: a retrospective analysis. Lancet. 2006;368(9546):1516-23.
Villar J, Bakketeig L, Donner A, et al. The WHO antenatal care randomised controlled trial: rationale and study design. Paediatr Perinat Epidemiol. 1998;12(Suppl 2):27-58.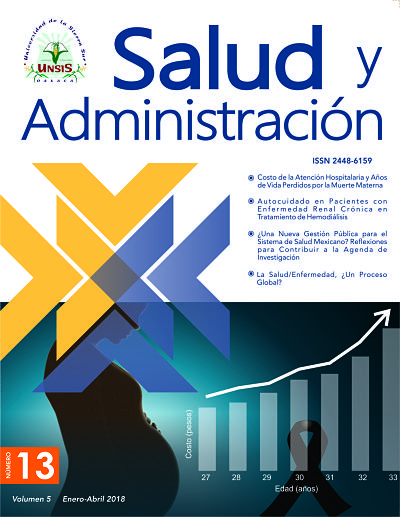 Sección
Artículos originales